Grin HM37 is a compact, very maneuverable lawn mower with internal combustion engine.
Built on the proven Grin chassis, it is equipped with the powerful and reliable Briggs & Stratton 675 series, 163 cc engine with Ready Start for an easy start up This lawn mower is the smallest and lightest of the internal combustion engine range. Nevertheless, it features the structural advantages of all GRIN lawn mowers, granting high solidity and mowing efficiency: 3 mm thick mowing deck, reinforced by a tubular frame, steel wheels with double ball bearing, centralised height adjustment lever, quick anti-vibration handlebar regulators, 25 mm handlebar, patented Grin blade, etc.
Ideal for users who look for high quality mowing in small gardens or with narrow passages. The 37 cm blade is recommended for lawns up to approximately 400 m2. The chassis of this machine is very solid and durable. In case of particularly rocky or uneven terrain, it can be equipped with the optional engine protection cone.

Mowing quality in standard conditions


Manoeuvrability in tight spaces

Performance in tall grass (>30 cm)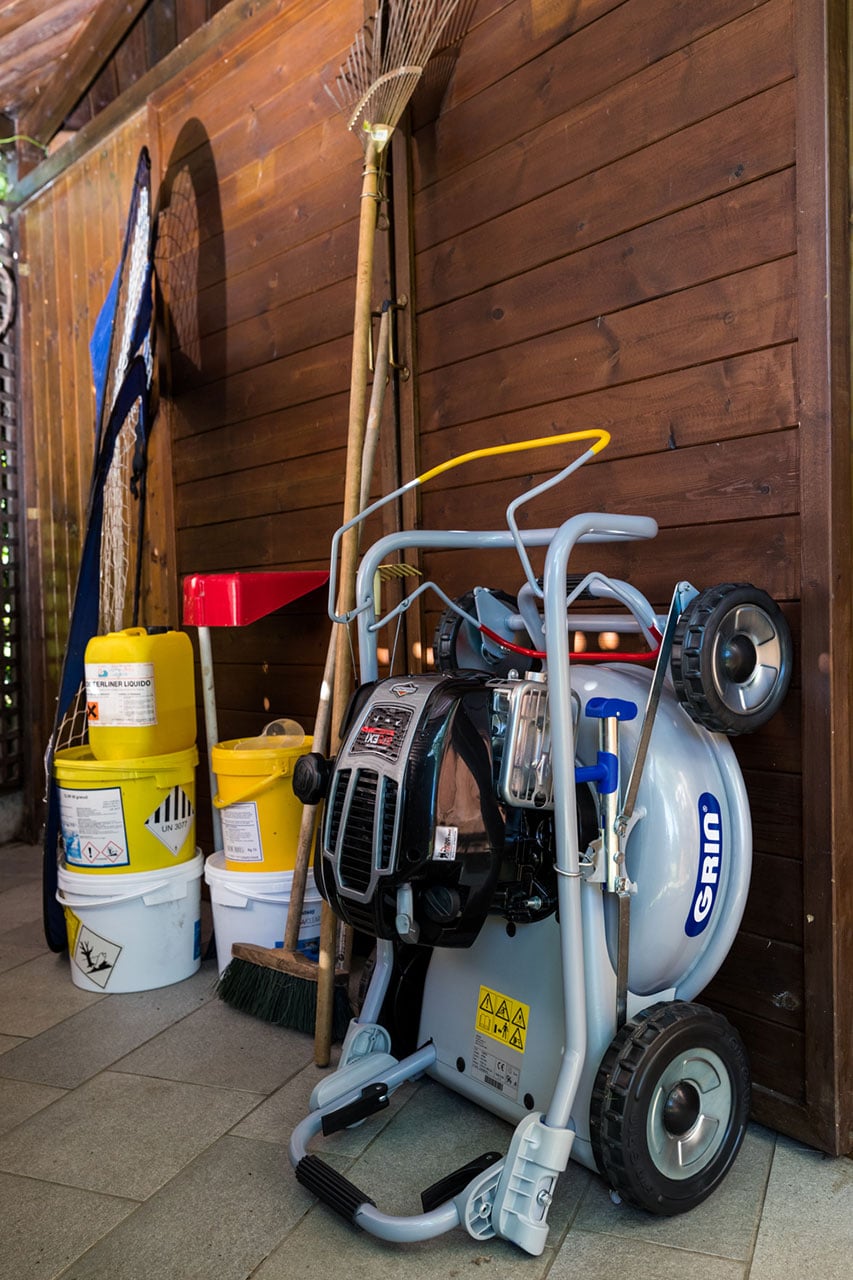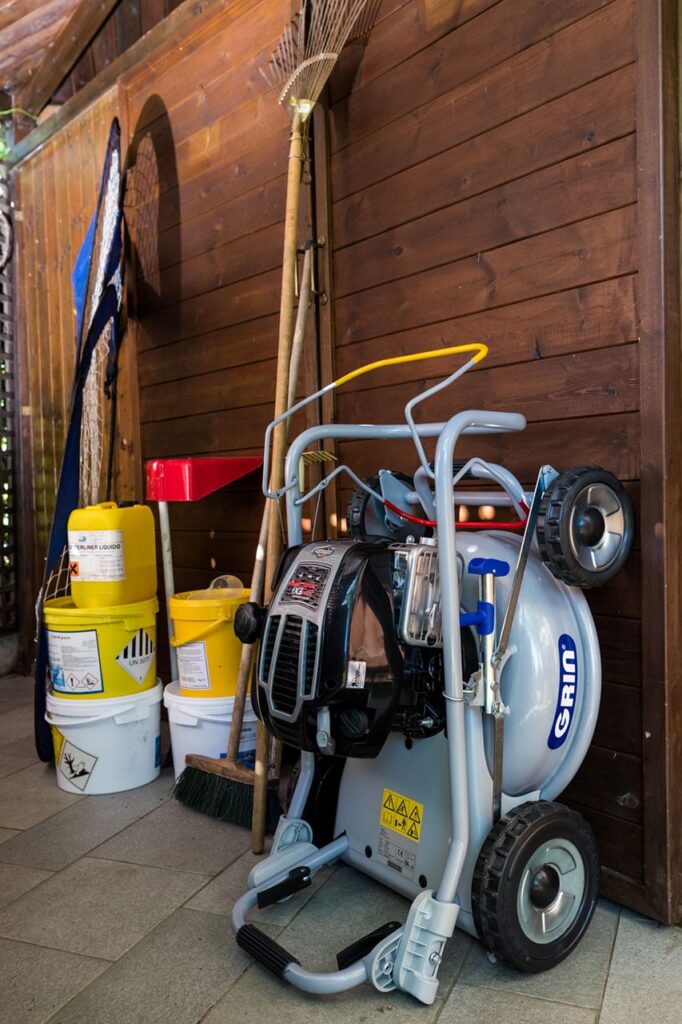 Mow n'stow vertical storage
70% of space saved in your garage even with full tanks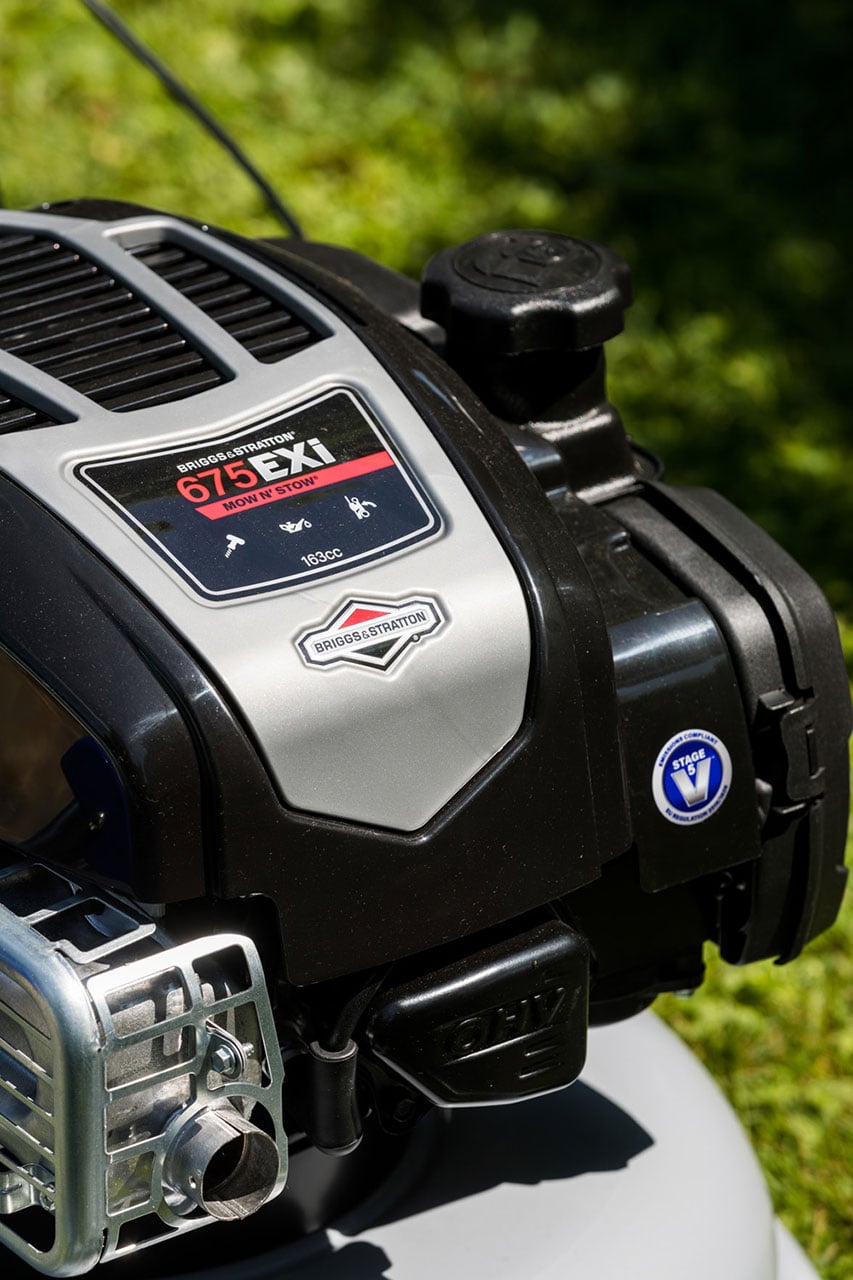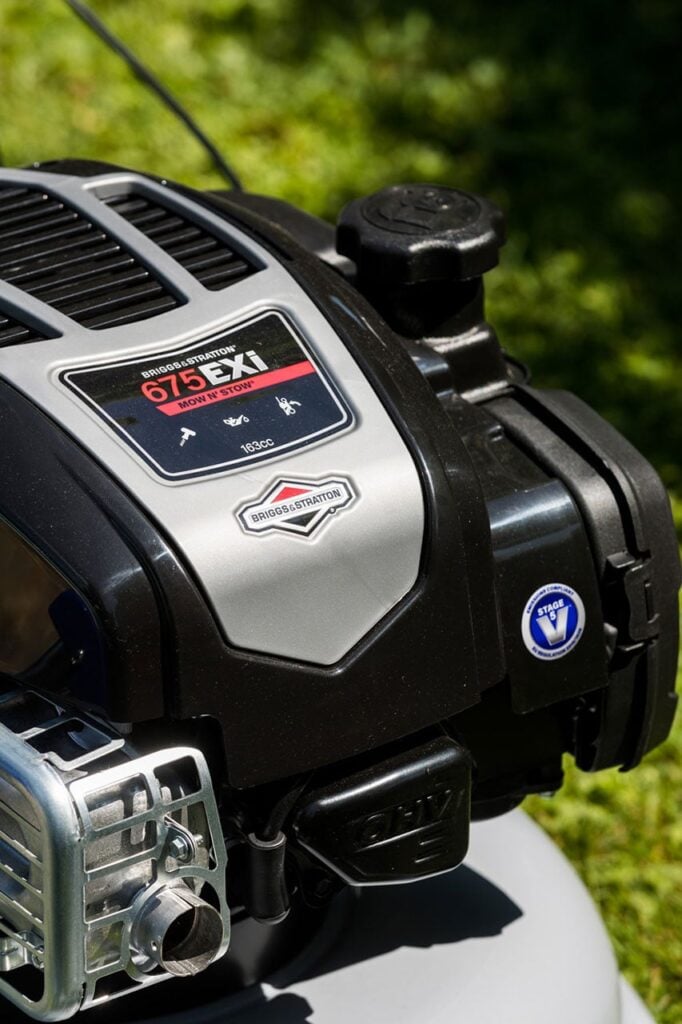 Ready Start
automatic starter to start the engine on the first try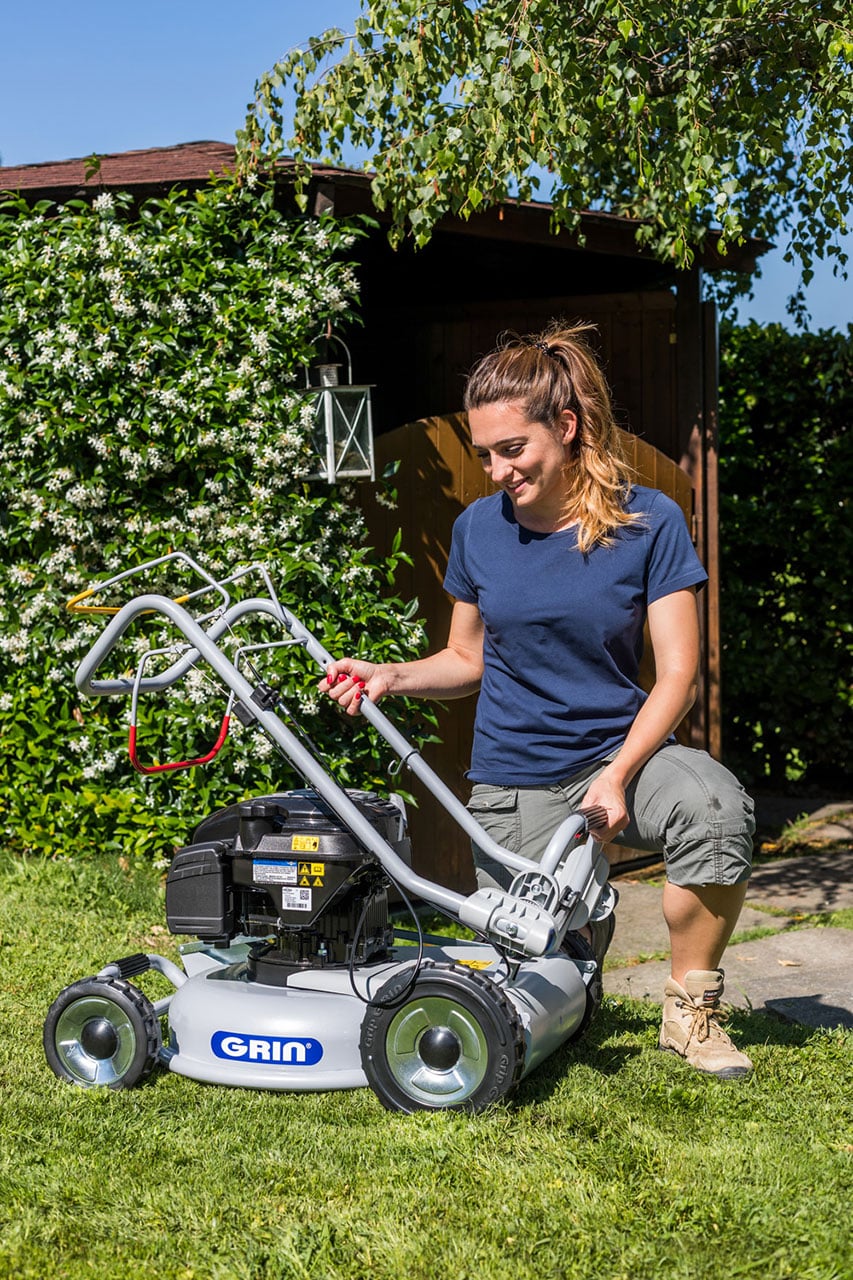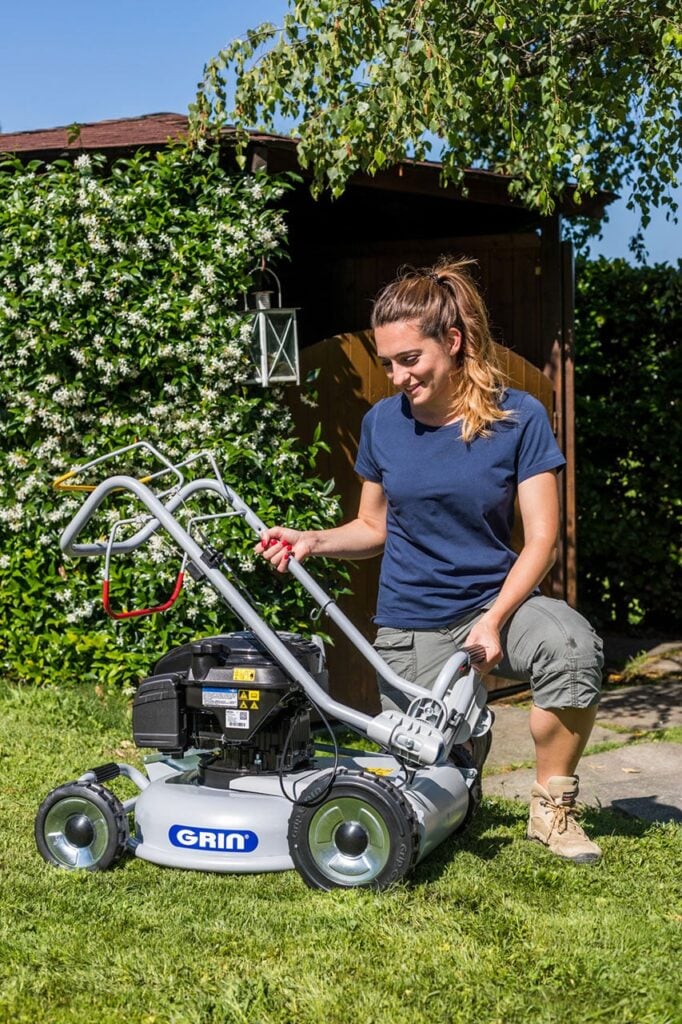 Foldable handlebar
Thanks to two easy levers, it is possible to fold the handlebar for storage in little space and an easy transport.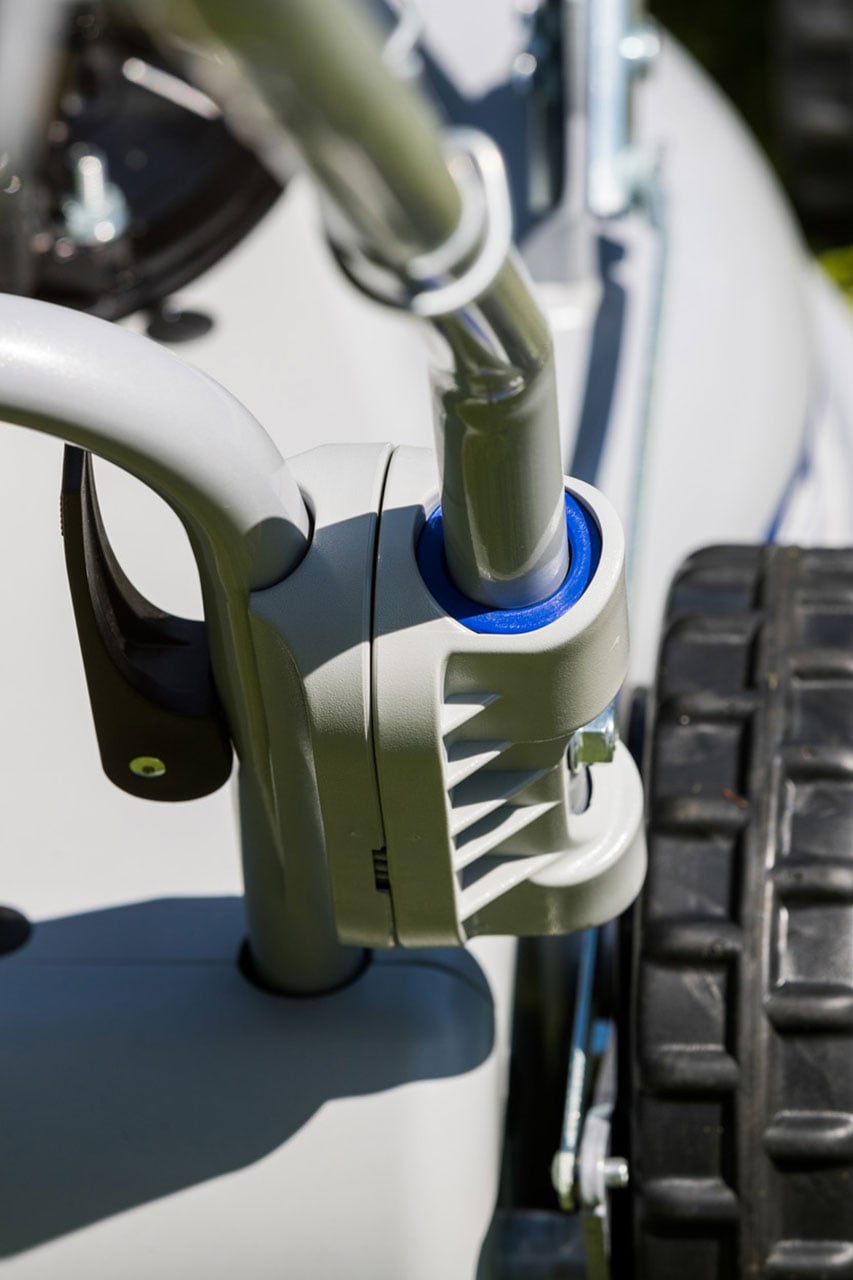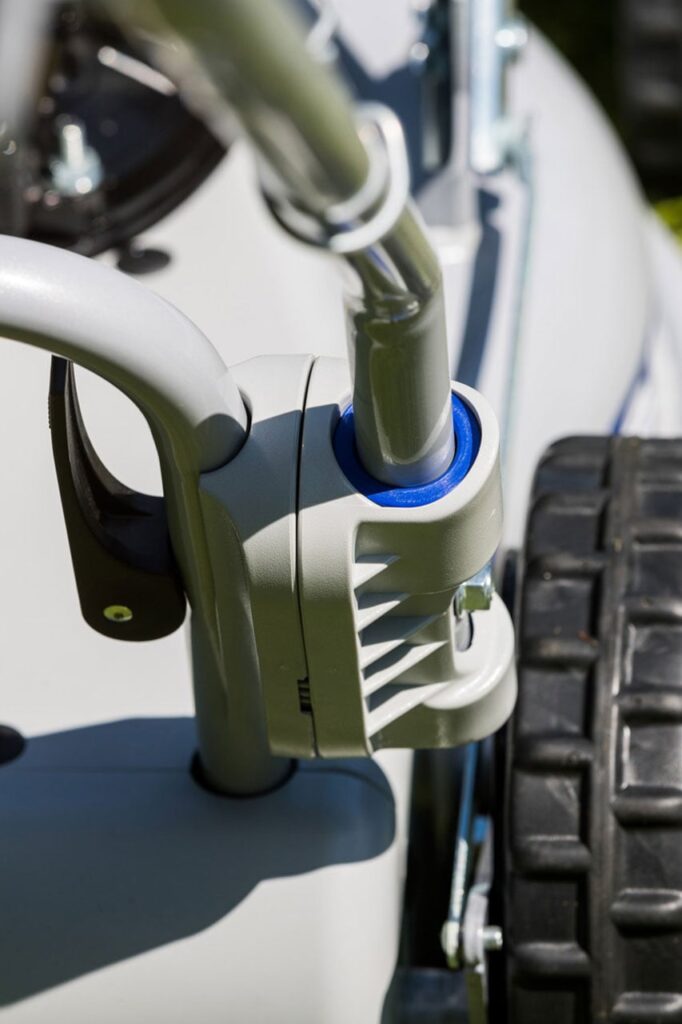 Anti-vibration quick regulator
Two sturdy Nylon regulators allow the adjustment of the handlebar height according to the one of the user. Grin has also studied a vibration absorption system inside the new regulators to grant much more comfort in case of intensive use.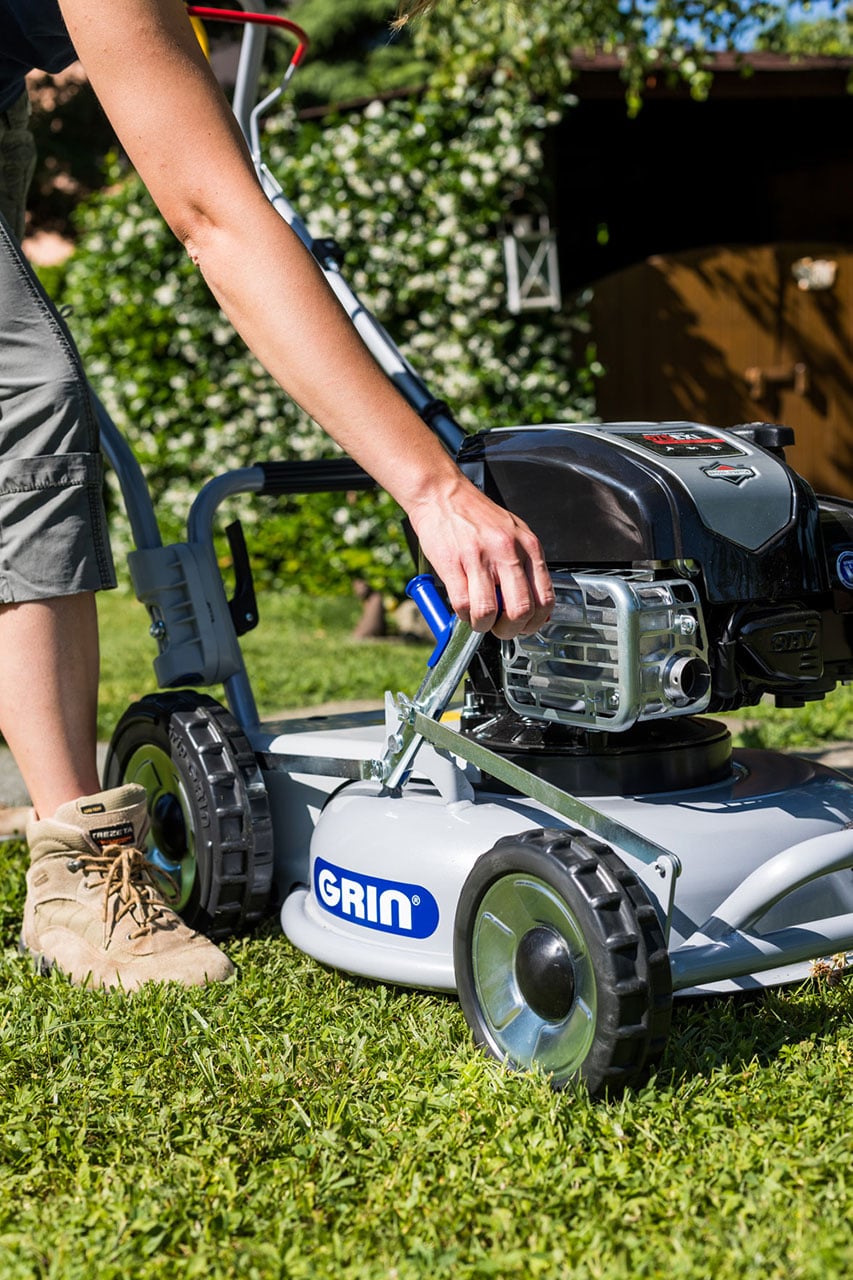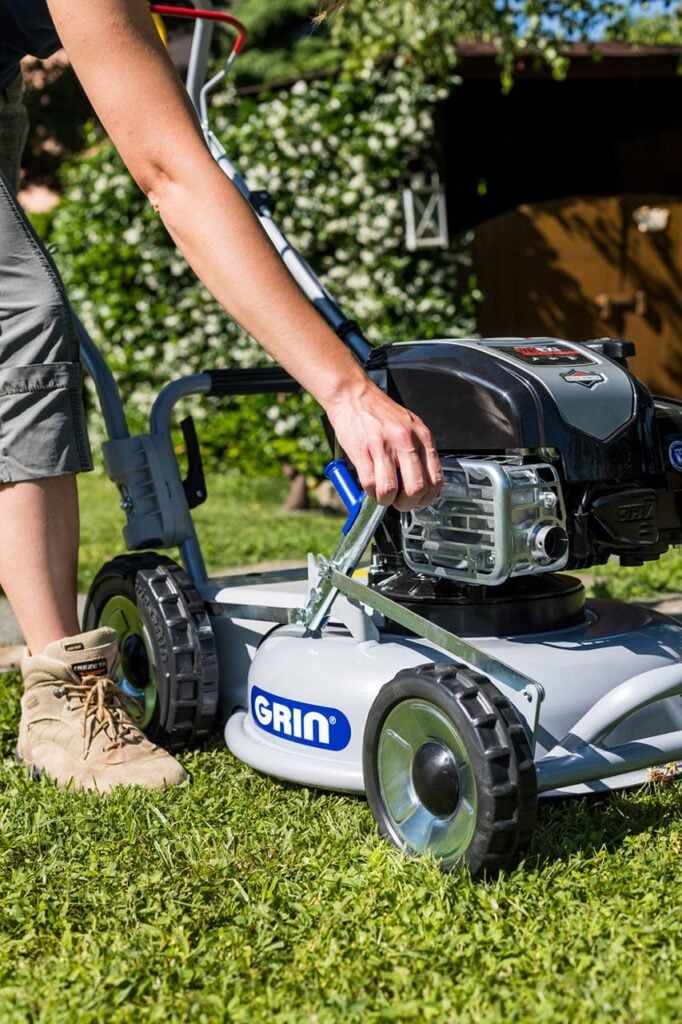 Centralized mowing height adjustment
The rapid height adjustment on the four wheels is possible using a single lever. With a single movement, it is possible to set the desired height quickly and easily.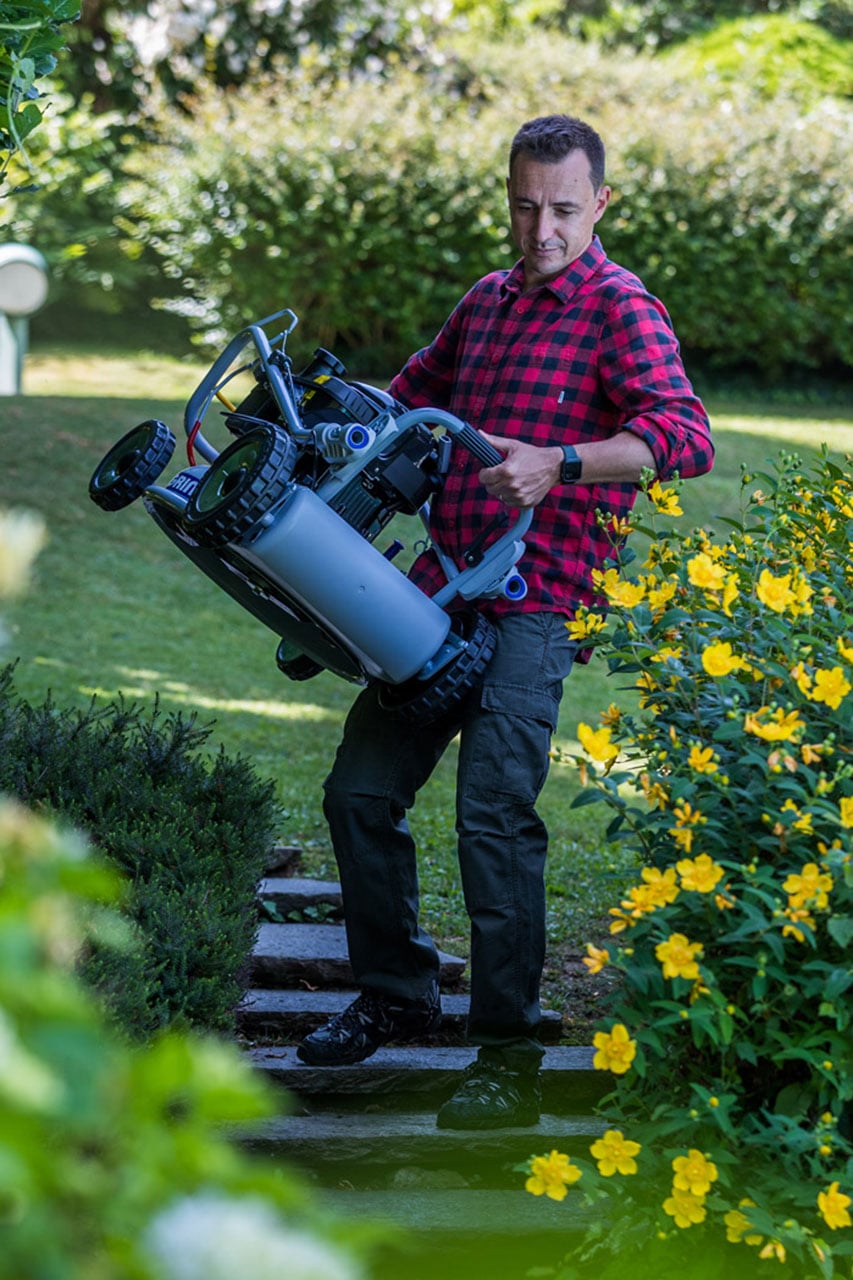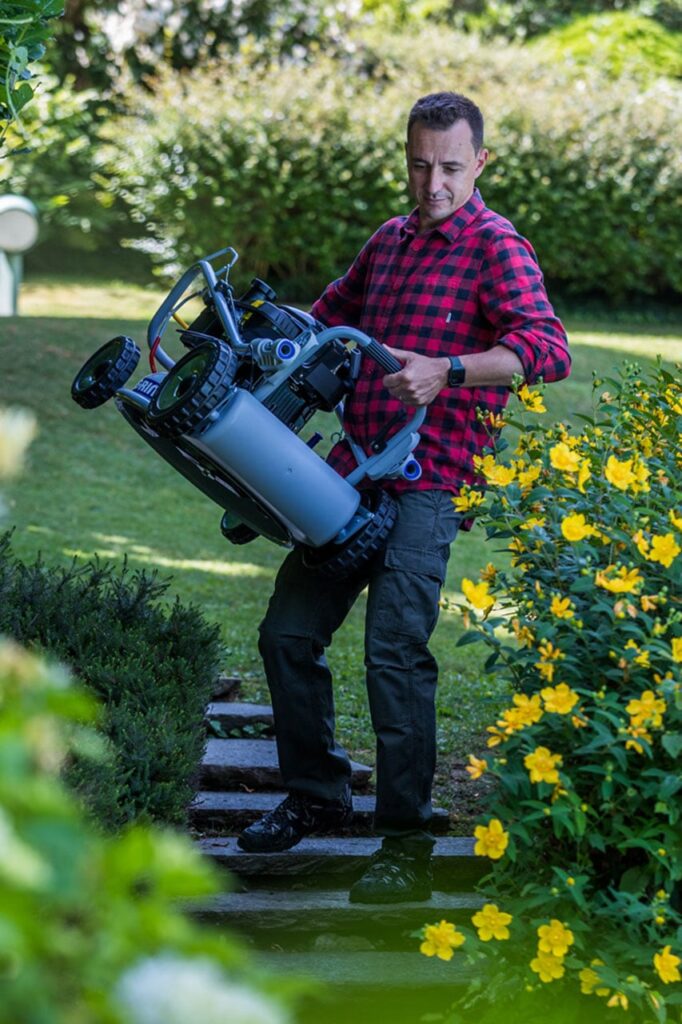 Frame designed for transport
The Grin frame has an ergonomic shape designed to improve the maneuverability of the mower and is suitable for transport. Two handles allow the user to lift the machine easily in case of stairs or inconvenient areas of the garden. With folded handlebar, GRIN can also fit in the smaller cars to be easily transported.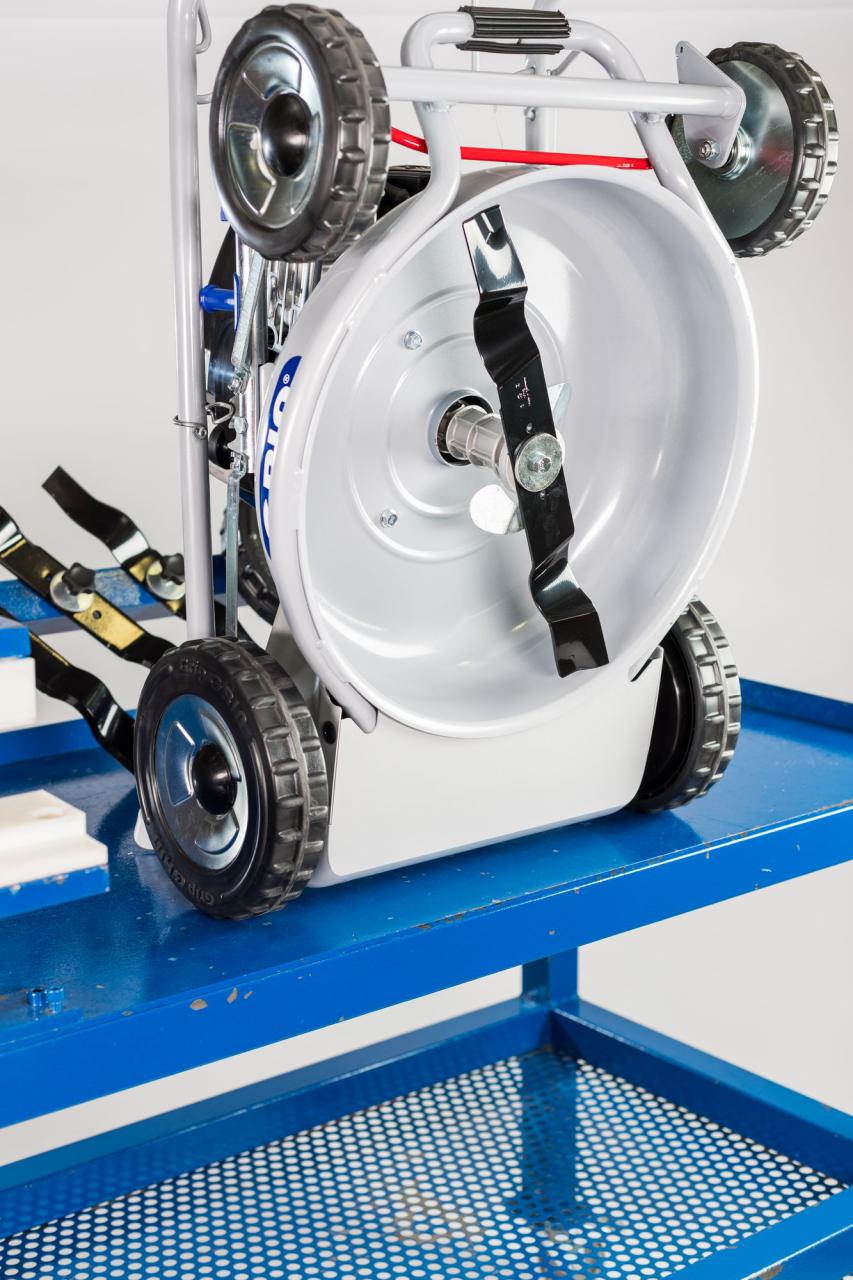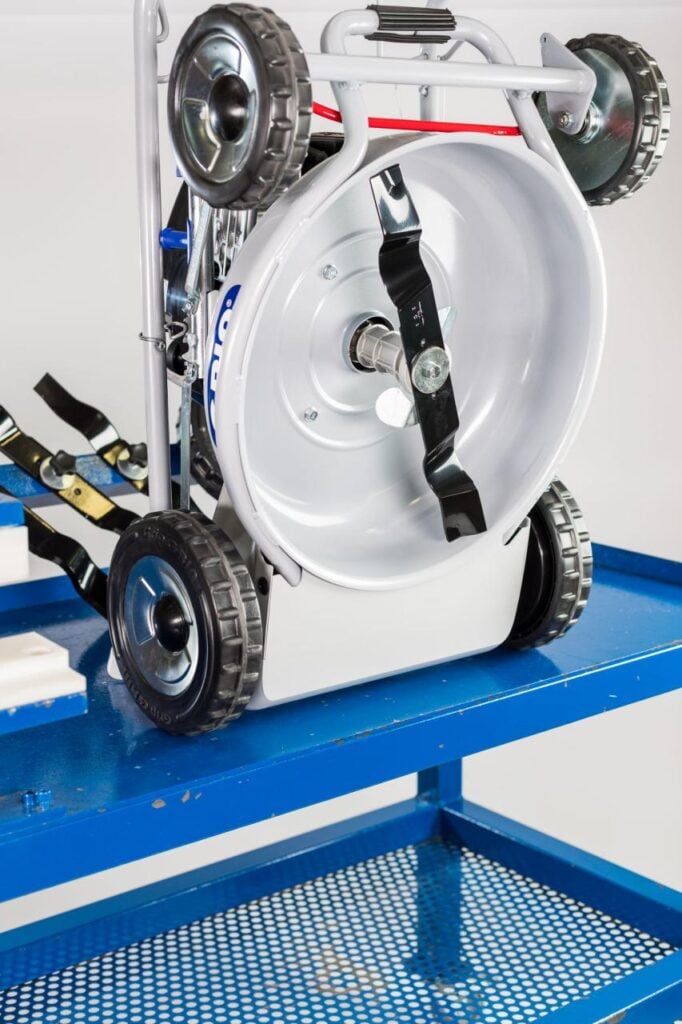 Steel mowing deck
The mowing deck is completely smooth and manufactured with a 3 mm thick, powder coated steel. This provides sturdiness and allows a proper centrifuge of the grass.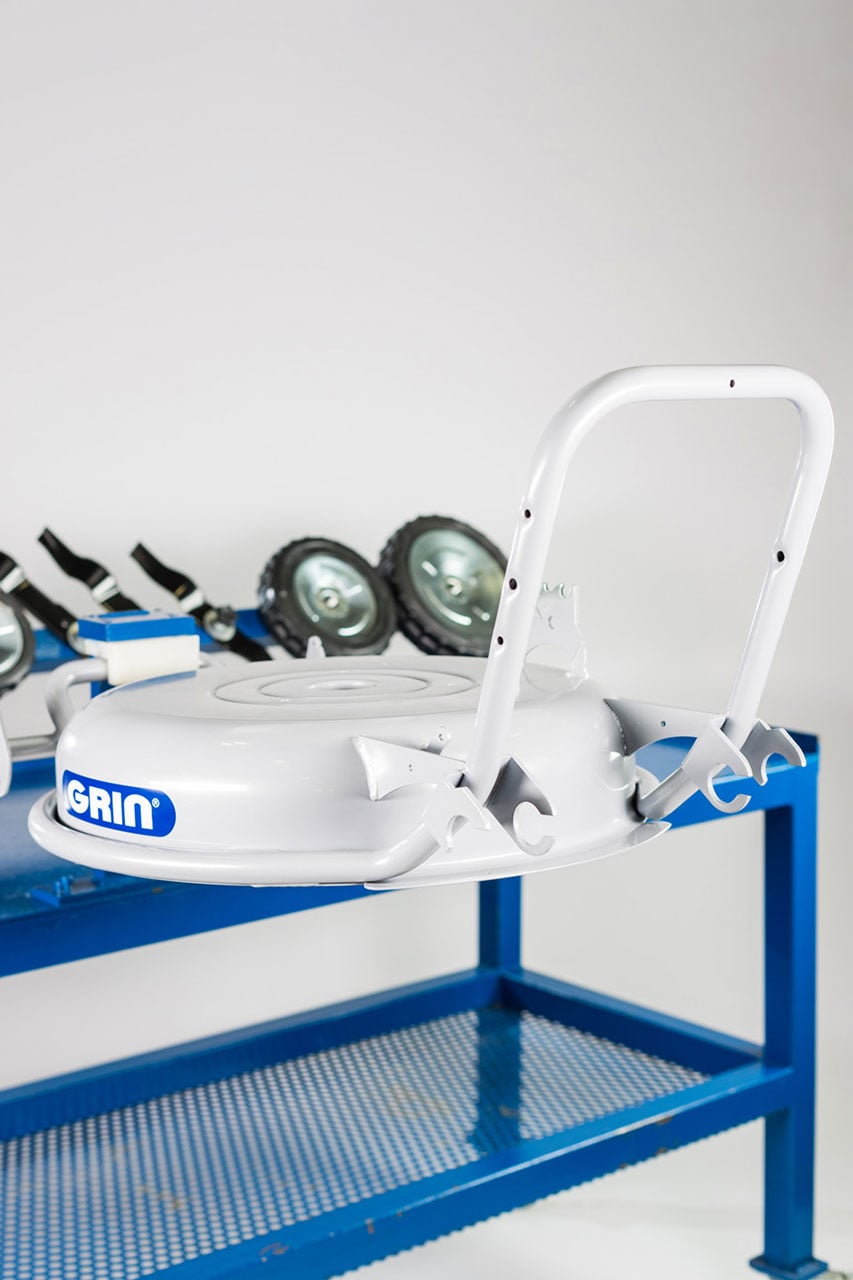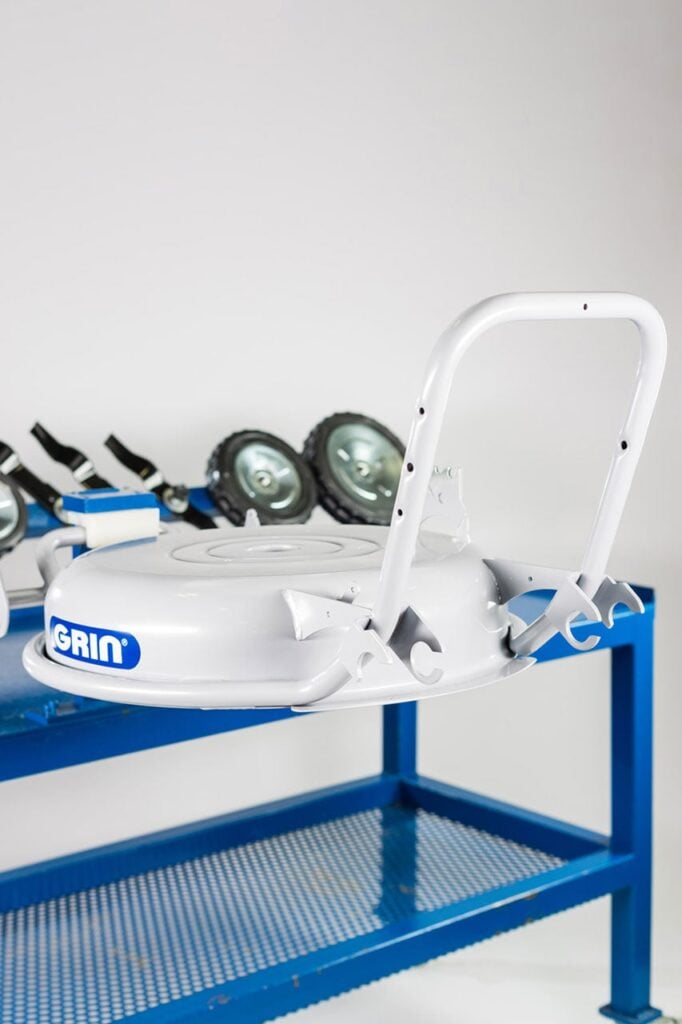 Steel frame
The supporting frame is manufactured with a steel tube, which is welded to the mowing deck to form a unique solid part (registered utility model). This increases the overall strength and rigidity of the lawnmower and helps reducing vibration.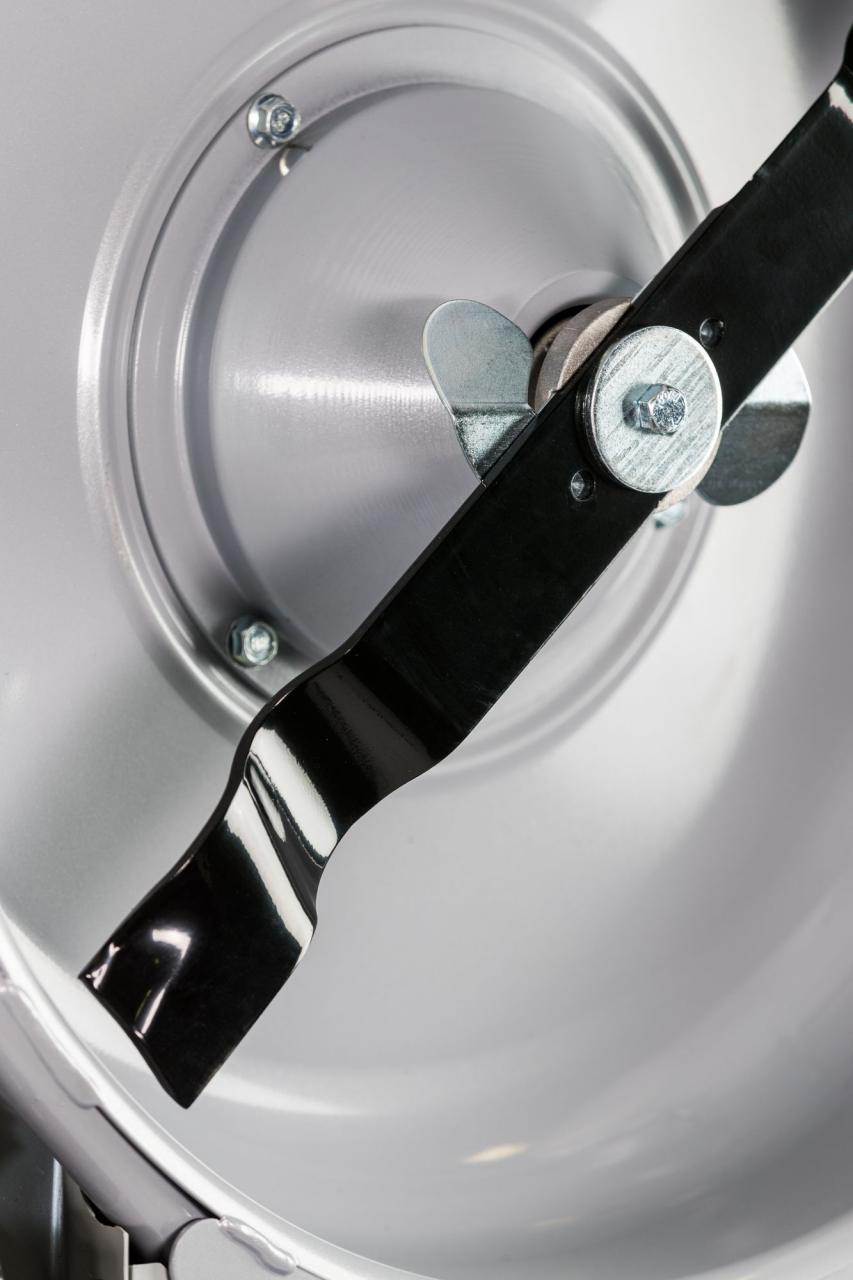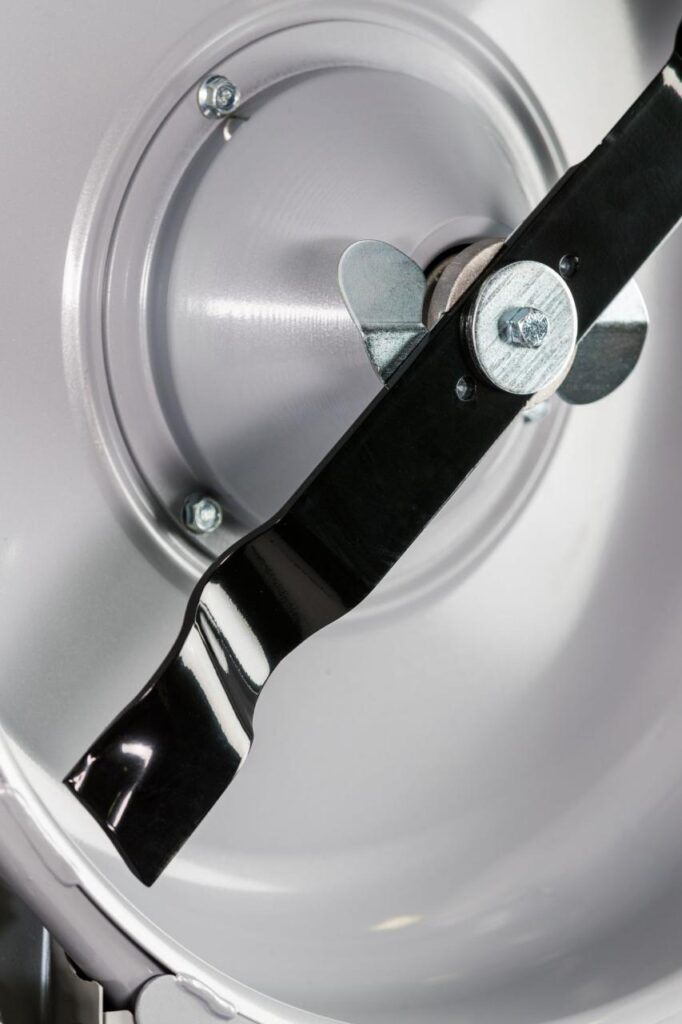 Patented blade
The patented blade is manufactured with a special production process, which enhances strength and durability. The material thickness and the sharpening method assure a 3/4 times longer life span than conventional blades.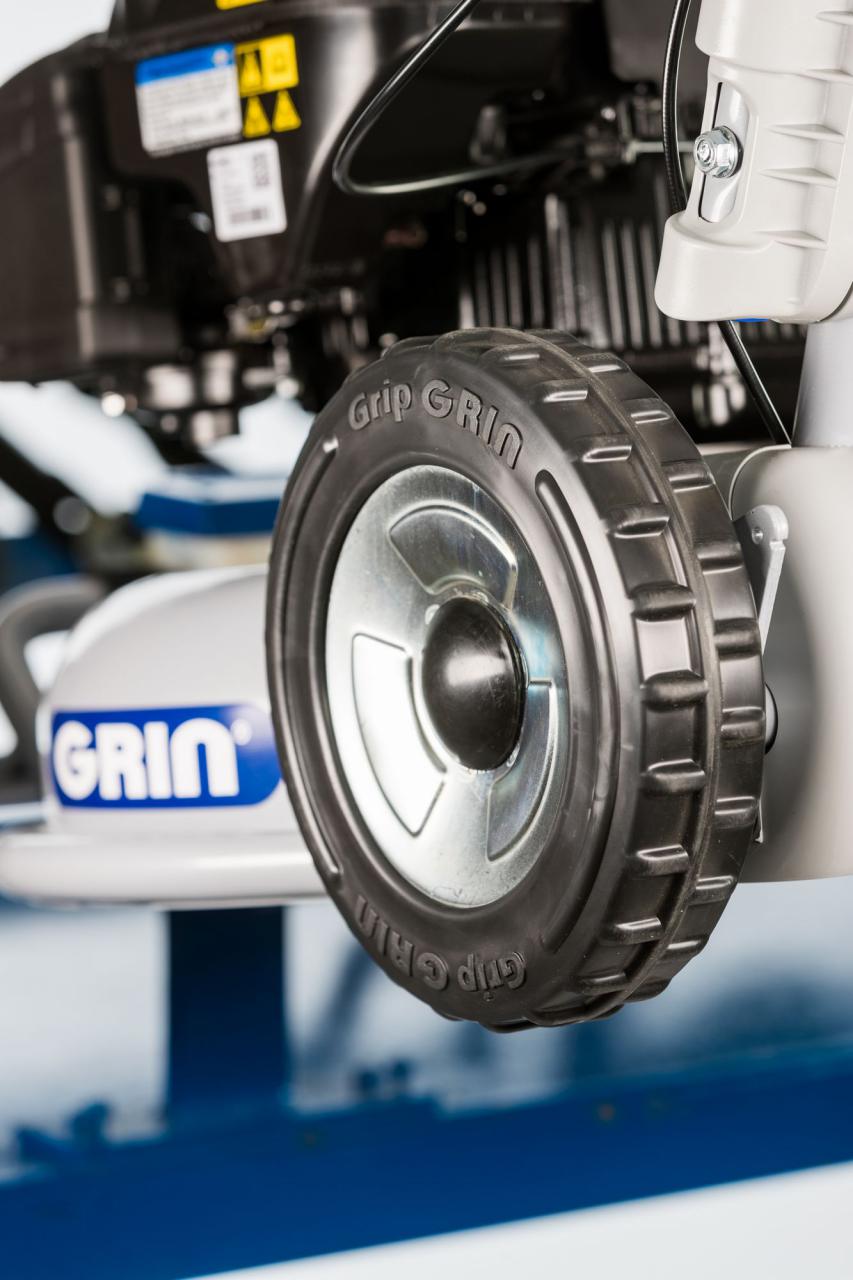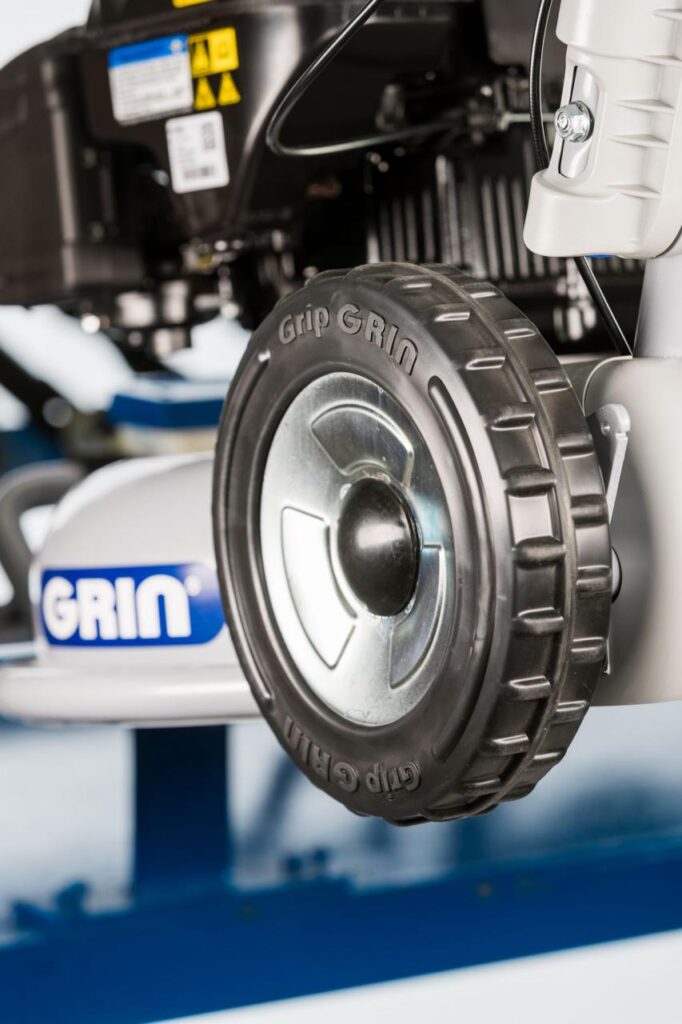 Steel wheels
The wheels with steel rim and hub are manufactured to last over time. The double ball bearings grant ease of movement even on extremely difficult terrain. The treads have been designed to meet the need of every model and user.
Lawn mower Petrol GRIN HM37
Mowing system
Patented GRIN mowing system MOWING - NO GRASS BAG - NO WASTE
Mowing width
37 cm
Mowing height
4 heights, adjustable with a single quick action lever
Traction
No
Wheels
Grip Grin, steel structure with double ball bearing
Mowing deck and structure
Reinforced, powder coated steel
optional
Handlebar
Foldable with quick anti-vibration regulators
Briggs & Stratton 6.75 - Ready Start 4-stroke - 163 cc MOW N'STOW for vertical storage
Start
Easy starter cord - automatic
Weight
25 kg
We help you choose your GRIN
GRIN offers a complete range of products that fit the requirements of every garden.
It's important to choose the right lawn mower: GRIN will accompany you for many years to come!
Remember that GRIN does not have a grass bag. This makes it lighter and more maneuverable than the lawn mowers you have used until today.
1 - CHOOSE THE RIGHT MOWING WIDTH
Usually, you can choose a smaller GRIN lawn mower in comparison to a model with grass bag (e.g. if you used a 53 cm mowing width, a 46 cm GRIN model might suit you). The choice of a grass bag lawn mower with large dimensions is due to the fact that a larger grass bag reduces the number of stops when mowing. With GRIN, choosing a larger mowing width saves you approx. 10 minutes each 1.000 m2, however, the smaller machines are more maneuverable especially in tight spaces.
2 - CONSIDER IF YOU NEED A TRACTION
Lawn mowers with grass bag are typically heavier, especially when the bag is full of grass. To easily maneuver them, the traction is needed starting from 400 m2 or on slight slopes. GRIN machines without traction are more maneuverable, instead, especially in tight spaces. A walk-behind GRIN mower is recommended up to 800 m2 and 10° of slope.
3 - CHOOSE THE RIGHT ENGINE
Grin lawn mowers with electric motor have the same structural features as the ones with combustion engine: the mowing result is particularly qualitative and under normal mowing circumstances practically identical to that of the line with internal combustion engines.
How big is your garden in square meters?


COMPARISON WITH A LAWN MOWER WITH GRASS BAG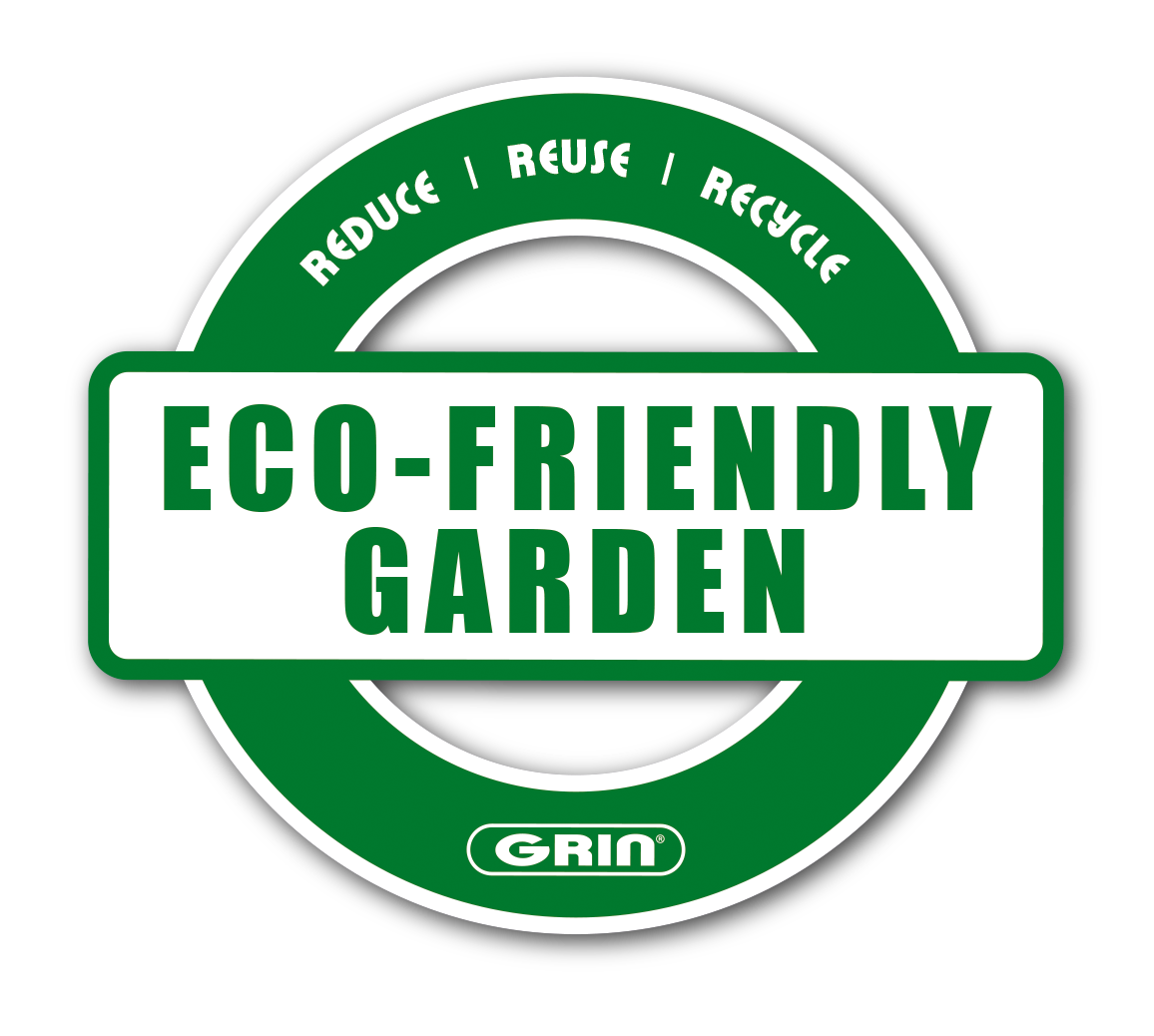 THE GRIN ECO-FRIENDLY GARDEN
Save time and effort
The 3Rs of Sustainability:  RECYCLE | REUSE | REDUCE
Look at the photos of the lawns cut by the GRIN lawnmowers
70,000 customers have chosen the GRIN cut
You may also be interested in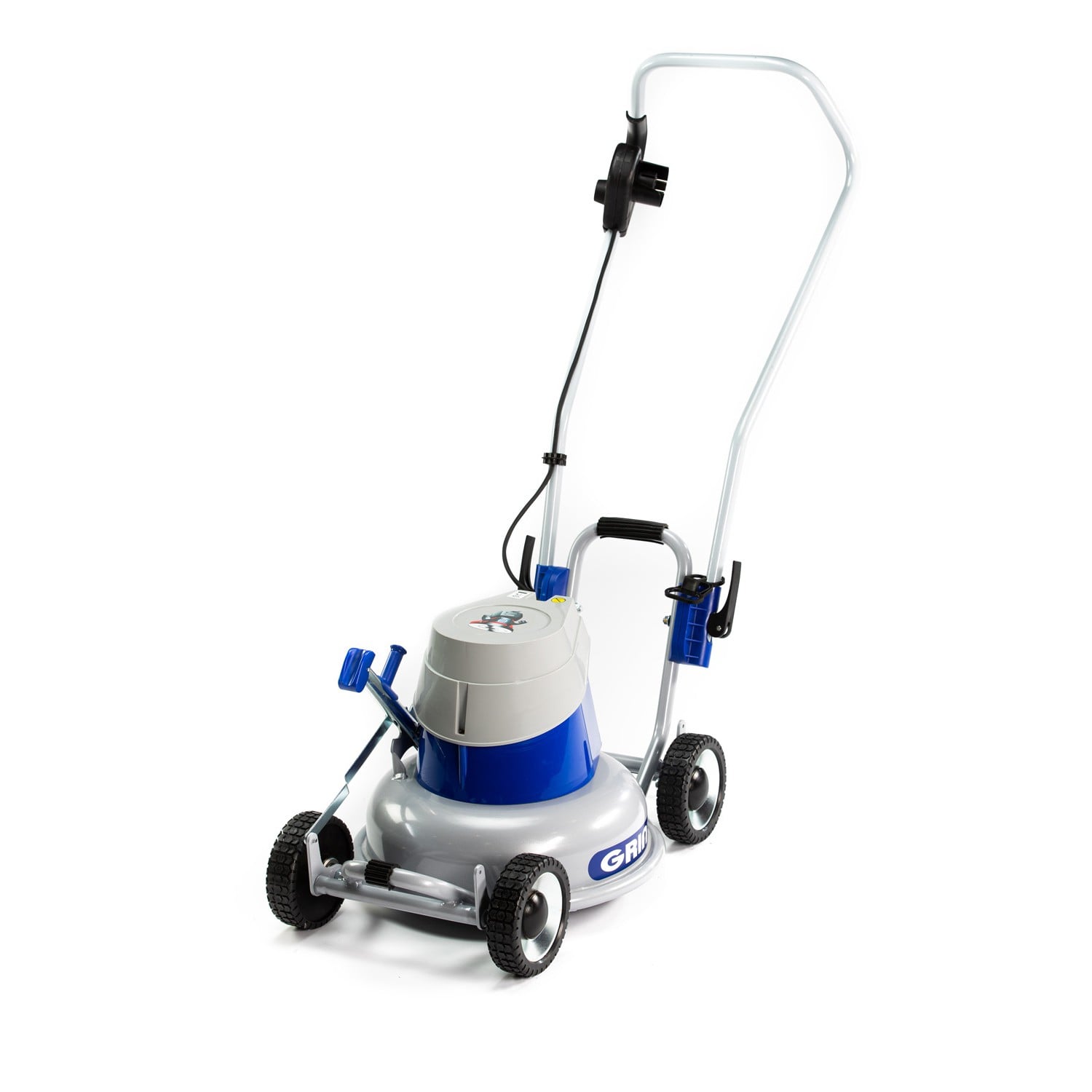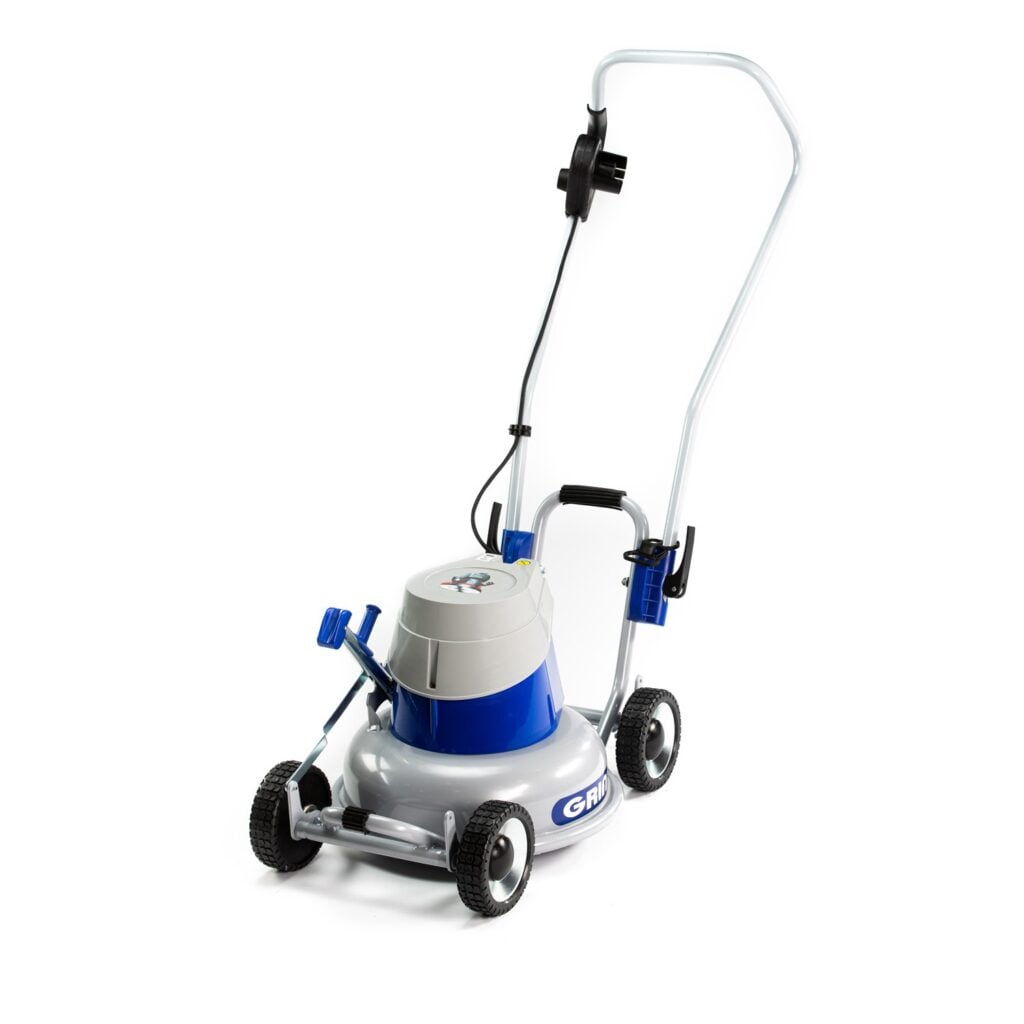 Mowing width
37 cm.
Engine
Electric with power cable - 1600 Watt
Start
Electric
Traction
No
Price
€ 549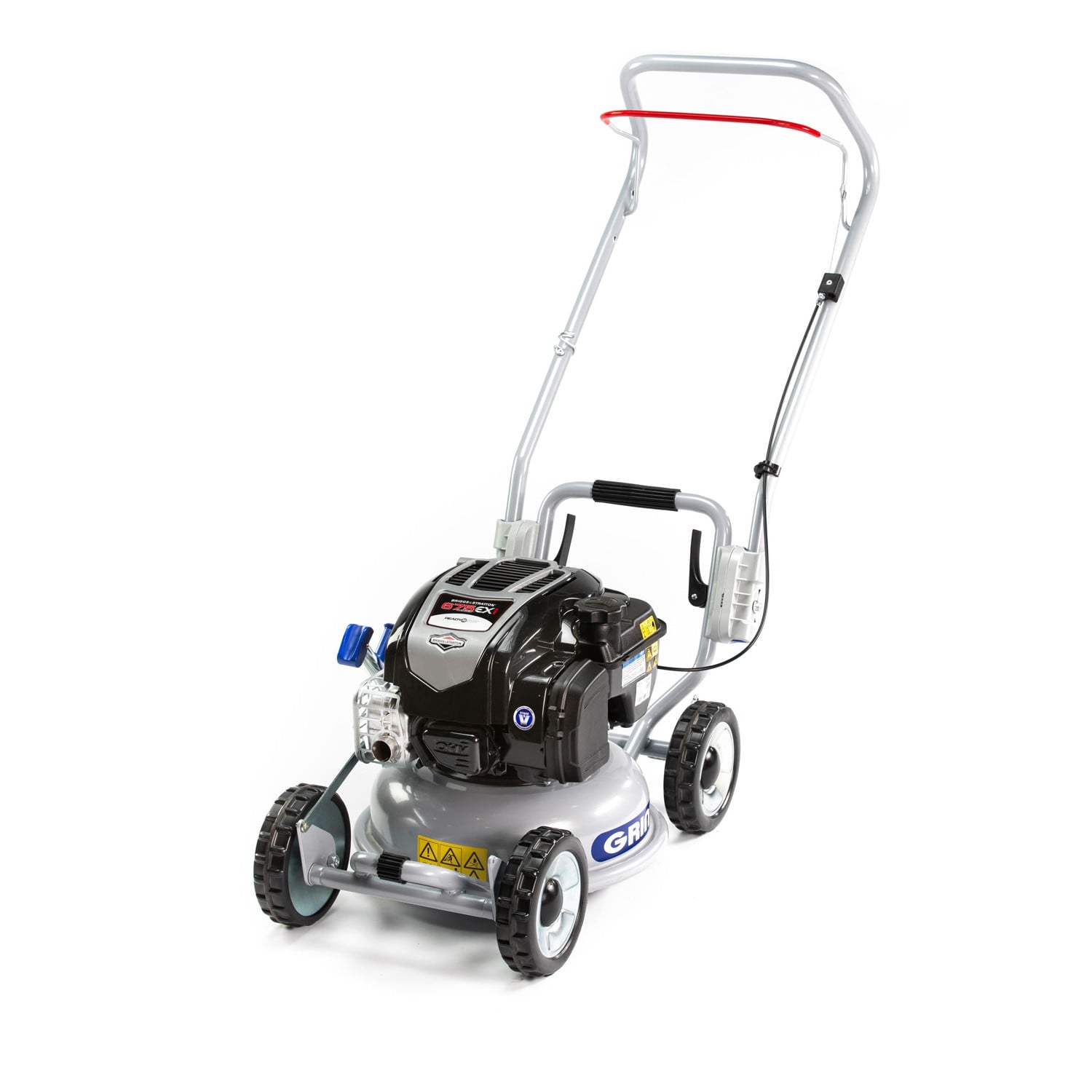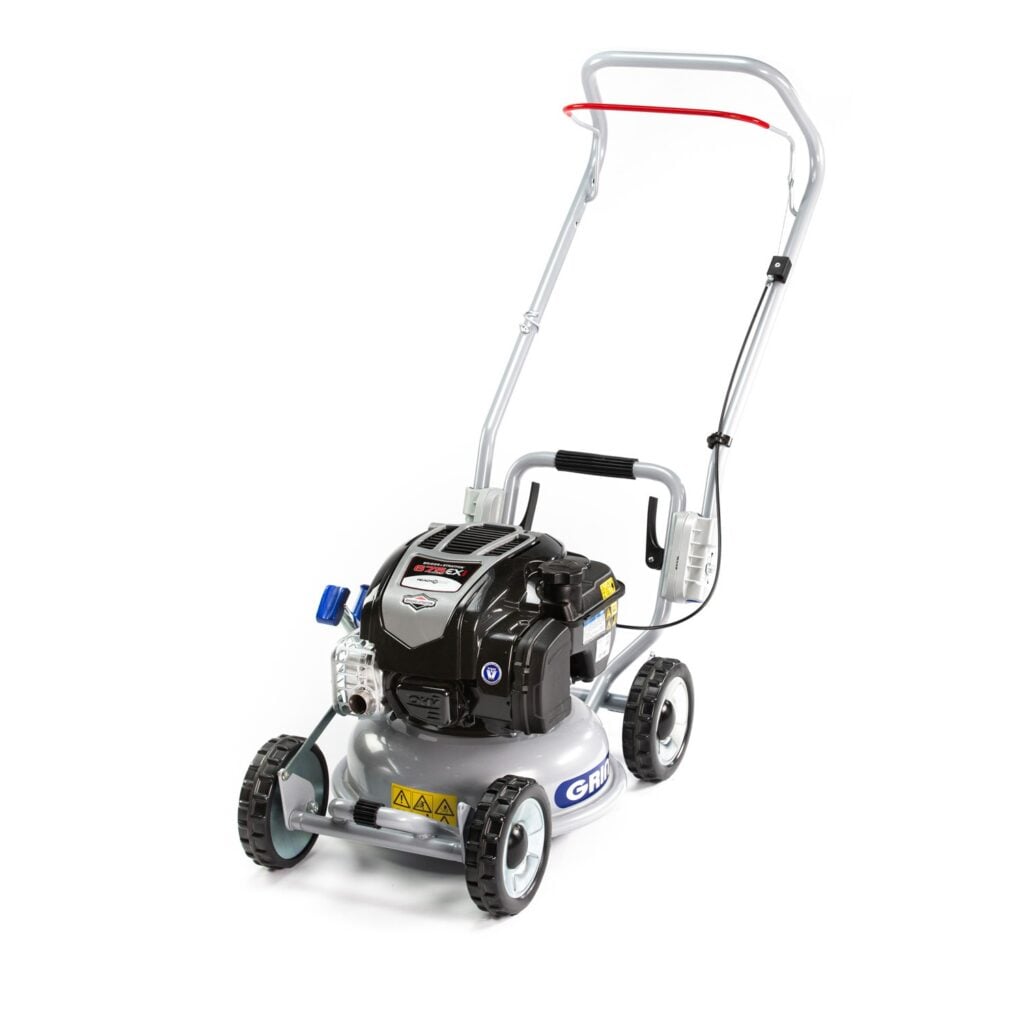 Mowing width
37 cm
Engine
Petrol - Briggs & Stratton 6.75 163 CC
Start
Easy starter cord - automatic
Traction
No
Price
€ 769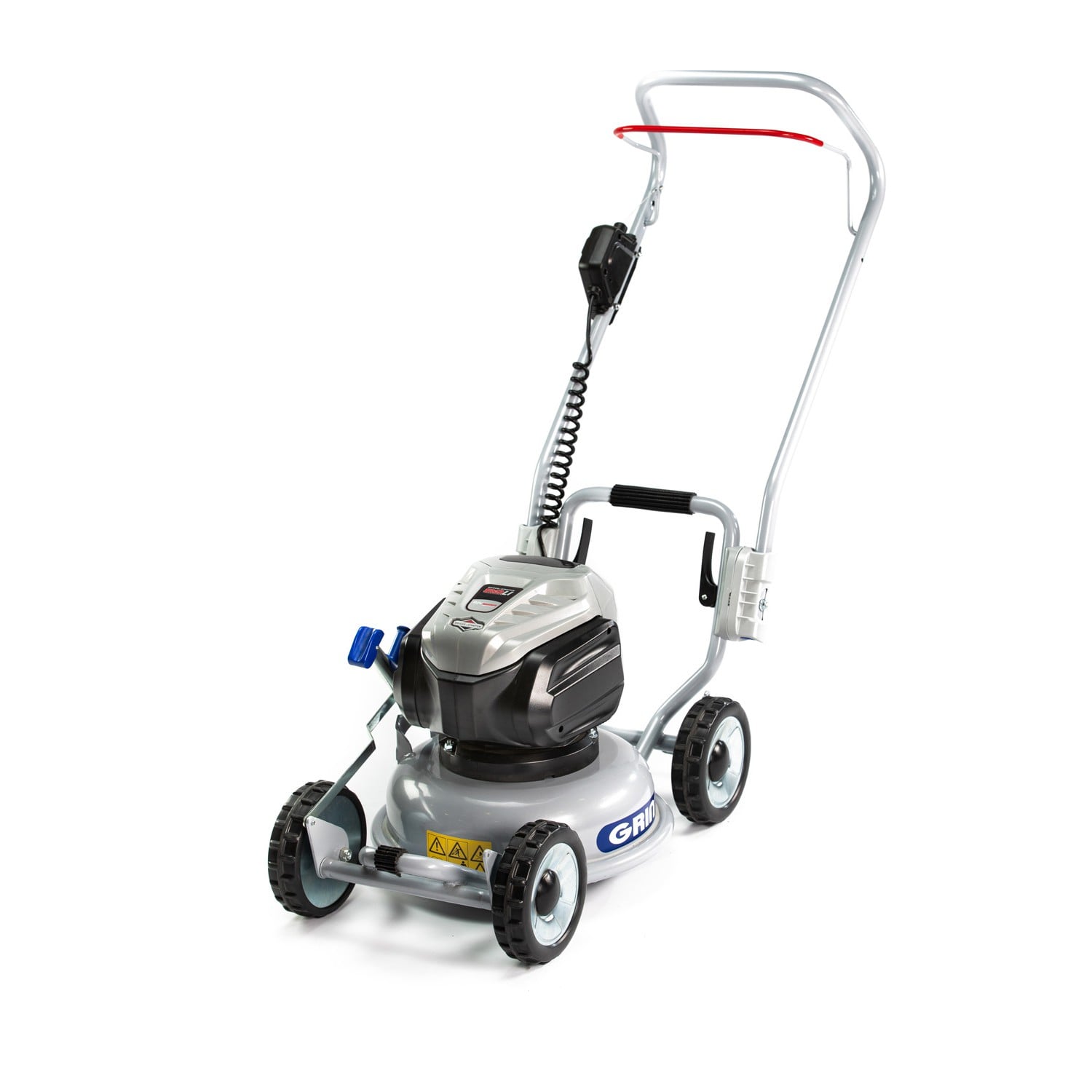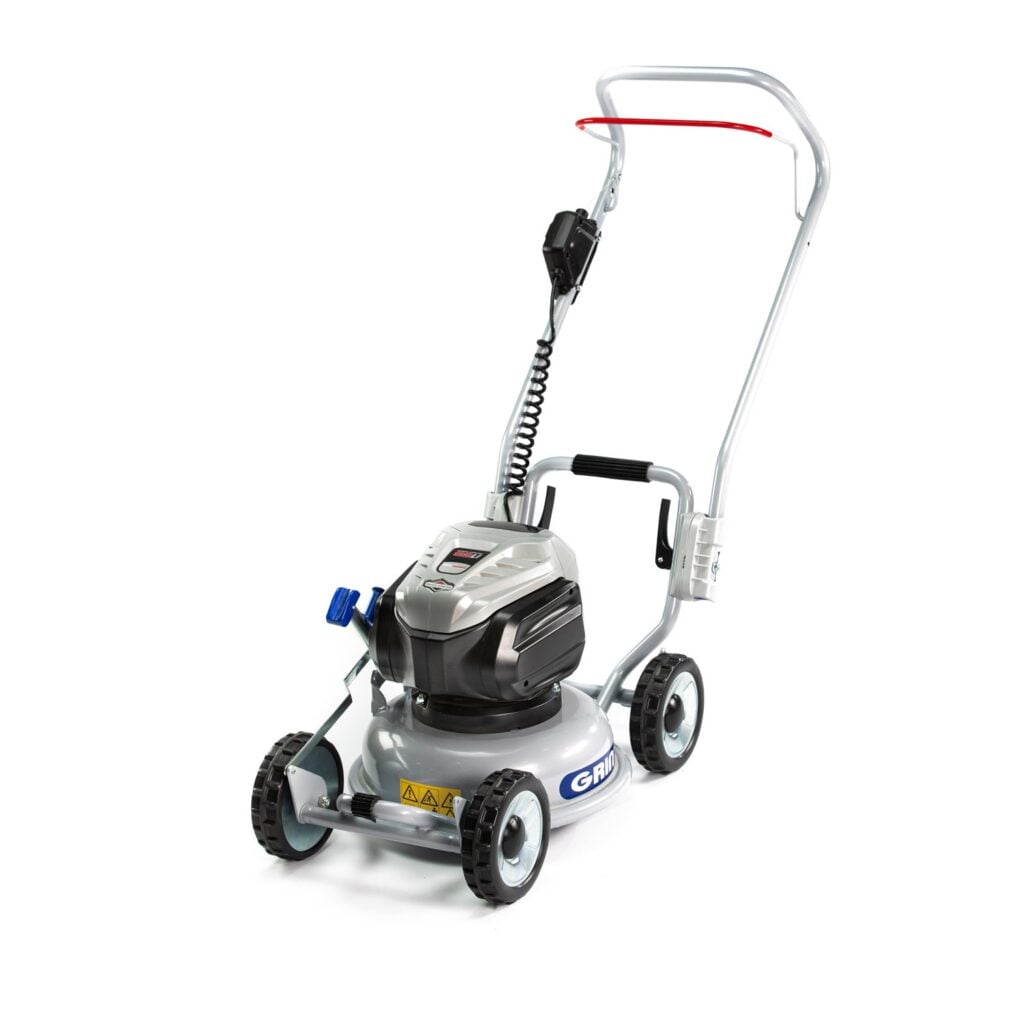 Mowing width
37 cm
Engine
Battery-operated electric - Briggs & Stratton 82V - Lithium ION
Start
Electric
Traction
No
Price
€ 1089